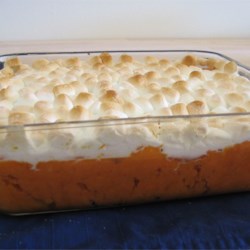 Every Thanksgiving, I used to dread
this dessert
masquerading as a vegetable. I suspect the corporate chefs at Kraft Marshmallow World Domination Headquarters dreamed this up as part of their plot to put marshmallows into every part of the meal. My parents, having grown up in Buffalo during the 40s and 50s thought this was a traditional dish. They always used canned sweet potatoes, lots of brown sugar and those teeny marshmallows. I never knew that sweet potatoes existed outside of the canned form until I went away to college. I thought I didn't like them, until I met some done in a Thai curry. It turns out what I didn't like was all that brown sugar syrup and marshmallows all over the sweet potatoes.
My parents were of the school that children had to eat some of everything and clean their plates. One was not allowed to decline certain dishes; that was considered "fussy". How happy I was when I was older and could strategically avoid them!
Are you a sweet potato and marshmallow fan? Is Thanksgiving not complete for you without a side of these? Or are you part of the Sweet Potato Liberation Army?